The Waterfall Country is an enchanting area of the Brecon Beacons National Park with each fall having its own unique character that changes from season to season. They have even been known to freeze during exceptionally cold winters forming spouts of ice suspended in mid-air. One of the most famous is Sgwyd yr Eira, the Fall of Snow, and the deep gorge cut of the River Hepste is crossed by a path that leads behind the curtain of water.
Andy, a professional photographer and lecturer, knows this area well as he has been exploring the river valleys here for over 30 years and wrote a guidebook to the Park called Walking on the Brecon Beacons which was updated in 2012.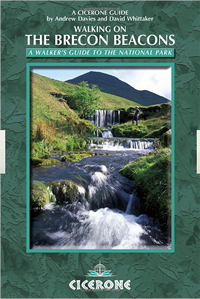 This workshop caters for all skill levels, from complete beginners to aspiring professionals. Hands-on expert tuition is provided to small groups who are initially taken back to the fundamentals of photography, rapidly progressing to having full creative control of either digital compact cameras with manual capability or digital single lens reflex cameras (DSLRs) with interchangeable lenses.
There is plenty of time throughout the workshop for one-to-one tuition when topics of your interest can be explored.
News and images can be found on Andy's Facebook page here.
Dates
Workshops can be arranged to fit in with your availability especially during the autumn and winter months.

Cost
£125 per person. Discount available for group bookings of 4 or more.
How to book
Numbers are limited and workshops must be booked at least a day in advance. Contact Andy Davies on 07977 562321 or email andy@andydavies.info
Location
The Park is located in the south-west of the Brecon Beacons National Park in South Wales.
Joining instructions
These will be issued closer to the workshop date.
Fitness level
The workshop will involve a reasonable amount of walking and steep gradients and slippery conditions underfoot may be encountered.

Equipment required
Digital compact cameras or digital single lens reflex cameras (DSLRs) with interchangeable lenses. Tripod. Please ensure that batteries are fully charged. Camera manual.